Performance Coaching & Vocal Lessons available at Songbird Studio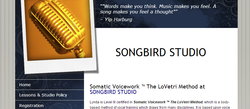 "Words make you think. Music makes you feel. A song makes you feel a thought"
-Yip Harburg.

Lynda is Level III certified in Somatic Voicework ™ The LoVetri Method, which is a body-based method of vocal training which draws from many disciplines. It is based upon voice science and medicine as well as traditional classical vocal training, complementary modalities such as yoga, movement, dance, acting, and speech training, and various bodywork approaches. Somatic Voicework™ The LoVetri Method is meant to unselfconsciously draw the mind of the singer into the physical process of making sound.

Please use the form below to contact Lynda at Songbird Studio to inquire about one-on-one performance and/or vocal coaching or use the button below to 'Book an Appointment'!

---
Or call (978) 884-5850 and leave a message. Your call will be returned within 24-48 hours. Please provide the same details as above if you are calling. Thank you for your interest in Songbird Studio.
---